Allstar Show Industries specializes in the sale, rental and service of professional audio, video, lighting, staging, rigging and control systems. From system integration, design and installation to concert touring, special events and pickup rentals, Allstar provides the experience, dedication and attention to detail required to achieve the highest results. Allstar also offers complete in-house and on-site service, from electronic repairs to maintenance contracts and custom service solutions.
Established in 1979, Allstar Show Industries has grown to become one of Western Canada's largest and most progressive audio, video and lighting companies. The company's diverse product and service offerings range from large scale contract installations and worldwide touring productions to retail sales and small equipment rentals. Allstar provides a full range of production and design services for events, tours and integrated system installations throughout North America and internationally. Tours range from New York to Los Angeles in The United States, to the UK, Spain, France, Italy, Germany and other European countries. Allstar has been part of major events such as the Edmonton Folk Music Festival, Breakforth, the Tim Horton's Brier, the Juno Awards, the Winter Olympics and the CFL Grey Cup. Allstar has designed and installed complete integrated systems for corporate boardrooms, conference centres, airports, restaurants, clubs, educational institutes and houses of worship across North America and in countries such as Israel.
Technical support is provided by skilled professionals with many years of experience in the field. Our technical staff are accredited with industry related training and are certified by manufacturers in the operation, programming, repair and warranty procedures for their products. The highest quality products are offered and are backed by the most comprehensive warranty programs in the industry.
Related Work Experience for The Pope visit to Alberta July 2022

Edmonton's Commonwealth Stadium is a 60,000 seat outdoor facility with north and south field end zones. The upper and lower seating levels on the west side, are mirrored on the east with lower level seating continuing around the north end zone. Behind the seating levels on both sides are large concourses. The south end zone lower seating level is curtailed by a concrete-brick- glass façade with a private spectator area on top, and the south pedway beyond it creates a walkway from the east to west sides. A new revitalized sound reinforcement system was required for major portions of the audio system. Above centre field is a speaker cluster enclosure; with a lower trim height approximately 100′ above field level. Allstar was contracted to remove the retired equipment before supplying and installing the new system. The stadium's 71 audio zones are controlled by a Q-SYS CORE3000 system with redundant back-up. 161 new Community Professional speakers with 9 Community D SPEC226AE processors are powered by a combination of Lab.Gruppen and QSC amplifiers. In the sound booth a new Yamaha PM5D-HR was installed as the main console with a LS9-16 for program playback. System networking is through a combination of 9 HP and D-Link switches running over fiber and copper depending on the length of the run.
Live and Event Production supplied by Allstar in Commonwealth Stadium
Canada Day at Commonwealth Stadium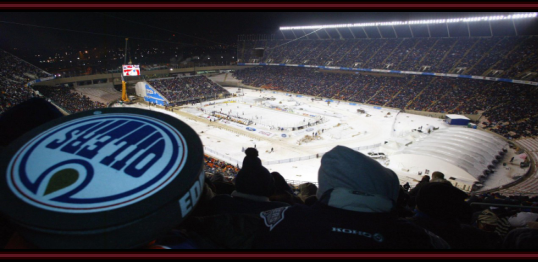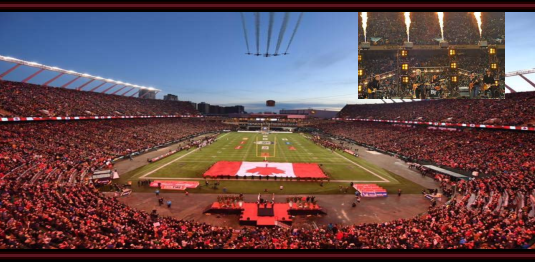 2010 Grey Cup Commonwealth Stadium