Simon Fraser University Center for Dialogue
As an NV design consultant, we, unfortunately, see a lot of installation work that needs serious corrective measures. I cannot tell you how refreshing it is to see a job done correctly the first time. The quality of wiring and harnessing used in the racks at the SFU Centre for Dialogue is nothing short of textbook. It is also refreshing to work with a contractor who takes the time to understand our design, and to properly integrate it. Gary Urlacher was particularly
good to work with. I feel I must also single out your control system programmer, Brook Pimm, for special mention. Control programming is an art, and too few contractors have access to experienced and competent programmers. Brook was able to deliver exactly what I wanted, and then some. I do not hesitate to recommend your company as a "well above average" NV contractor whom a consultant can rely on to properly interpret and install a system design.
Yours very truly,
Gary Musgrave, Conceptron Associates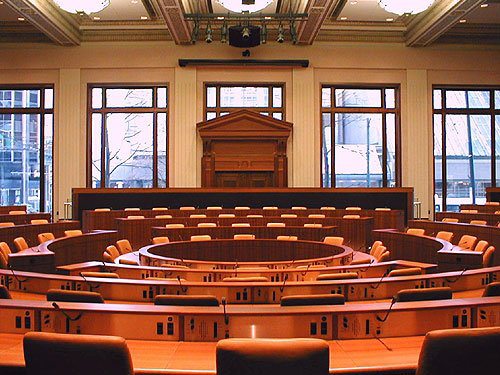 This project was for the supply, fabrication, installation, and commissioning of a fully functioning audio-visual presentation system. The system was
designed to achieve extreme flexibility, where-by video and audio signals are routed to multiple destinations in each area, other parts of the building,
are recorded or provided to the media.