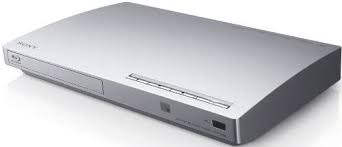 Sony BDP-S185 Blu-ray Disc Smart Player
Experience the thrills of your favorite movies in high definition with the Sony BDP-S185 Blu-ray Disc Smart Player. Simply pop in a Blu-ray or DVD and sit back to enjoy the show on your HDTV. The Blu-ray format offers some of the most stunning imagery available and can hold up to five times as much as standard DVDs, and the BDP-S185 supports all the clarity and detail these discs have to offer. This player even upscales DVDs to near-HD quality, so you might even forget which of your discs are Blu-rays.
Of course, what was Jurassic Park without the heart-thumping sound effects of the dinosaurs or the clashing of swords in Kill Bill? Every good movie needs stellar sound to make it come alive, and the BDP-S185 supports high definition audio — so if you have a 7.1 channel A/V receiver you're in luck. It has internal decoding for Dolby TrueHD and DTS-HD Master Audio and High Resolution Audio, and these are found on many DVDs and Blu-ray discs. So when you connect the player to your receiver, you'll be able to enjoy realistic surround sound for your favorite movies.