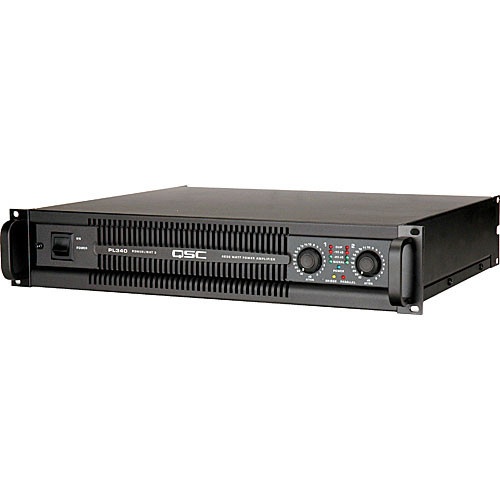 QSC PLX-236A
The QSC PL-236A is a lightweight, rackmount, 2-channel power amplifier with a custom security cover and built-in adjustable signal processing, built exclusively for use in touring and live sound applications. The unit outputs 725 Watts at 8 Ohms per channel in stereo mode, and is outfitted with a solid complement of controls and indicators, with detented rotary gain control knobs, LF filter switches, and clip LED's. Also featured is an HD15 Dataport, which enables computer-networked remote amplifier management and signal processing, using QSCcontrol software.
The PL-236A is equipped with a varispeed fan cooling system with rear to front airflow, and the energy-efficient PowerWave technology for the switching power supply. The PowerWave design sends current to the amp's power circuitry via a very low impedance circuit, charging the supply rails a staggering 230,000 times a second. The result is a consistently clean signal and predictable power distribution, with lowered thermal buildup and improved signal reproduction
The PL-236A incorporates the design, cost-effective operation, and performance features that QSC is able to implement after three decades of experience building amplifiers serving all professional sound markets.
– Lightweight 21 lb., high-power rackmount touring amplifier with built-in signal processing
– Selectable input sensitivity/voltage gain (+4 dBu, 32 dB, or 26 dB) and adjustable two-way 4th-order Linkwitz-Riley crossover with low-frequency delay for driver time alignment
– Adjustable high frequency attenuation, independent power limiters on each channel with adjustable threshold, attack and release times, adjustable CD Horn equalization
– PowerWave Switching Technology power supply for improved audio performance increased efficiency
– Increased airflow for improved thermal performance, detented gain controls with 1 dB steps for precise calibration
– DataPort for remote network computer control or the addition of external DSP modules
– Comprehensive amplifier protection circuitry includes full short circuit, open circuit, thermal, ultrasonic and RF; load protection with on/off muting and DC-fault power supply shutdown
– User defeatable clip limiters and selectable low-frequency 30/50Hz filter
– Removable knobs with lock-out security plate prevents unauthorized tampering, locking IEC power cable
– 1/4″ TRS, XLR, and 3-pin detachable terminal block input connectors, Neutrik Speakon and touch-proof binding post outputs