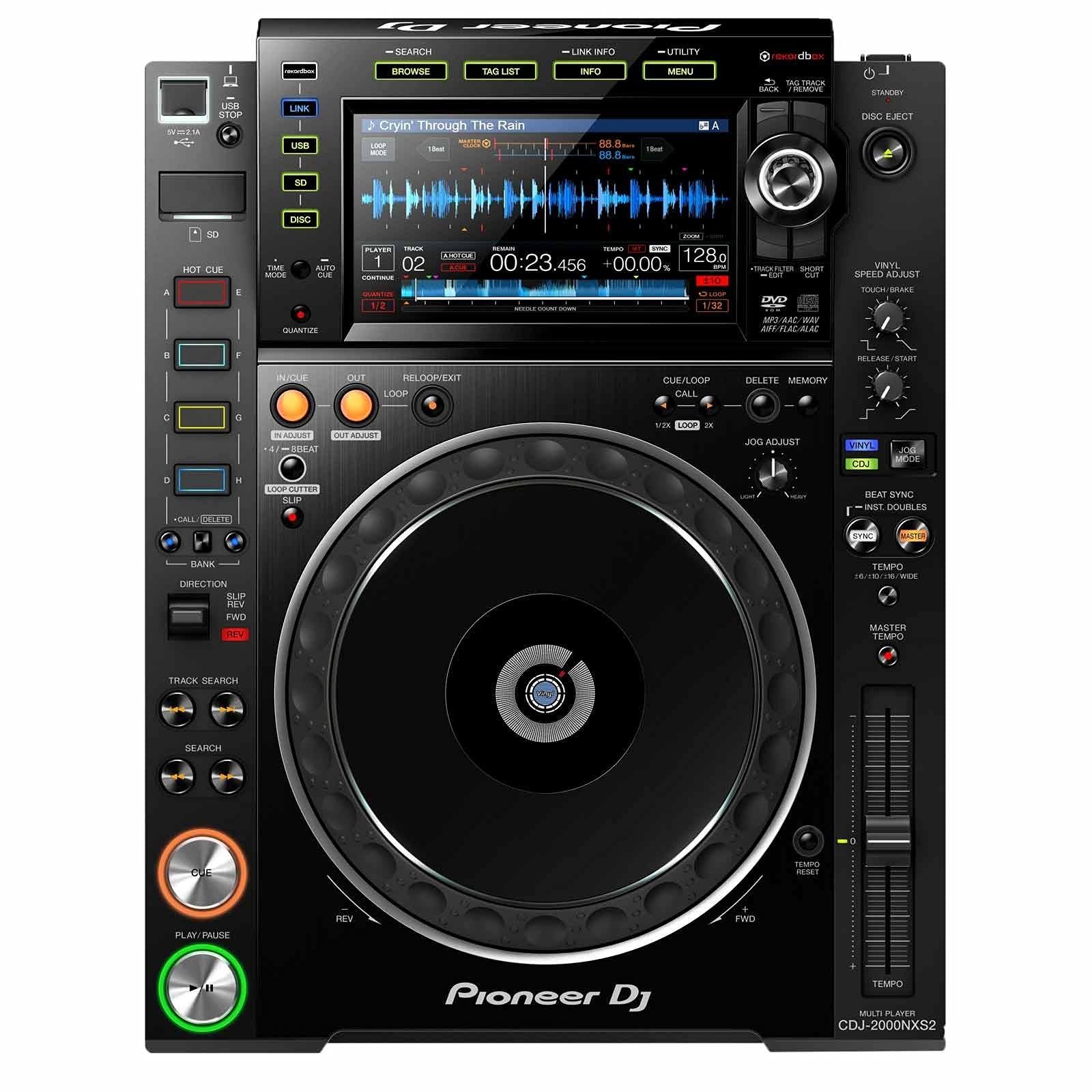 Pioneer DVJ-1000 Professional CD/DVD Turntable
The DVJ-1000 Professional CD/DVD Turntable from Pioneer is a flexible CD media deck featuring DVD video support and a wide range of connectivity. It affords DJs the ability to mix audio and video with full cuing, scratching and manipulation. Additionally, PAL and NTSC video formats are both supported to comply with European and American standards. Among the lengthy list of audio features are 3 hot cue memory and sampling locations, seamless real-time looping, reverse and much more.
The DVJ-1000 provides 24-bit/96kHz audio processing. It also offers MP3 compatibility with intuitive track navigation, allowing DJs to access a large catalog using minimal CDs. Its 7″ jogwheels feature a "non-slip" finish and easily adjustable resistance.
Vinyl Emulation
Pioneer's groundbreaking, touch-sensitive jogwheel enables real-time cuing, scratching and vinyl-like manipulation.
Wave Display
The display reads each track on the CD and displays the sound level graphically.
Hot Cue (Sampler)
Memorizes up to 3 cue points per CD. These points can then be recalled by hitting either of the A, B or C buttons. This function can also be used like a mini sampler for vocals, stabs, or breaks, adding that touch of creativity to any DJ set.
Reverse
Instant reverse is controlled by using a toggle switch. With no loss of tempo or pitch, it can be used immediately within any track without having to stop or start. Reverse can also be used with the Hot Cue and the Loop Sampler providing endless combinations and effects.
Real Time Seamless Loop
A quick and simple way to set a loop while a track is playing. Once the loop is set, it can then be looped continuously or until the ReLoop / Exit button is pressed. When released, the track continues playing without any pause. The loop can be re-triggered at any time by hitting the ReLoop button.
Loop In / Out Adjust
Loop In / Out Adjust is the ability to adjust both the In and Out points of a loop stored in memory. So now fine-tuning a loop is both quick and easy. Loop-In adjust is only available on the DVJ-1000.