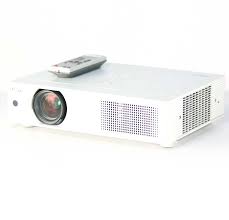 Sanyo PLC-XU106
BRIGHTEST 4,500 LUMENS, AND LIGHT WEIGHT
PLC-XU106 for use in a variety of meeting spaces and classrooms.
Weighing in at only 7.5 lbs, it offers the Industry's highest brightness
for its class 4,500 lumens and a high contrast ratio of 1000:1, thanks
3LCD Built-in Network Closed Caption
575i,480p, 480i,
Color System NTSC / PAL / SECAM / NTSC4.43
Projection Lens (inch) F 1.7 – 2.5 f=0.76″ – 1.19″
Throw Ratio 1.15 – 1.85
Throw Distance (feet) 3.05′ – 37.7′
Zoom / Focus Manual
Up / Down Ratio 9:1
Digital Keystone Correction V +/- 40°, H+/- 30° (Auto V-Keystone)
Digital Zoom 16x – 1/4x
to adopting an inorganic *1 LCD panel for the optical engine. S k Ot t 1W
Brightness and contrast ratio combine to enable bright, big-screen
projection with a high quality image.
*1 Inorganic: Long life and high contrast LCD Panel
CORNER KEYSTONE CORRECTION FUNCTION
Corner Keystone Correction Function eliminates distorted trapezoidal
images caused by projection at an angle. A wide range 1.6x zoom
lens allows for flexible placement.
Speaker Output 1W
Weight (lbs.) 7.5 lbs.
Dimensions (inch) W,H,D 13.2″x3.1″x10.1″
Replacement Lamp 610 333 9740
Replacement Remote 645 099 3213
Lamp Life * (hours) 3000h (Eco)
Input
PC/Video
D-sub 15 x1 (RGB)
D-sub 15 x1 (RGB, Component, Scart RGB)
Mini DIN 4pin x1 (S-Video)
RCA x1 (Composite Video)
COMPLETE EASY AUTO SET UP FUNCTION, SMART AUTO
INPUT SEARCH AND AUTO VERTICAL KEYSTONE
CORRECTION
PLC-XU106 provides "Auto Set Up Function" that corrects keystone
shaped distortion by searching for an input signal and detecting
projector incline, therefore reducing set up time. PLC-XU106
automatically compensates for keystone picture distortion. Auto
Keystone Correction, Auto Input Search and Auto PC Adjustment
make it a really smart projector.
Audio Stereo mini jack x 2
RCA x2 (R/L-mono)
Output
PC/Video D-sub 15 x1 (Monitor out)
Audio Stereo mini jack x 1 (Audio out, variable)
Other Feature D-sub 9-pin x 1(Control port)
RJ-45 x1 (Wired LAN)
Power cord x 1
Networking software (CD-ROM)
VGA cable x 1
Soft carrying bag
WIRED LAN (RJ-45) FOR PROJECTOR CONTROL
This model is equipped with Wired LAN (RJ-45) that allows you to
manage and control the projector via Network. You can check the
operating time of the amp and manage warning notification by email.
Power ON/OFF and switching of the input signal can also be
controlled. You save time in management and control.
BLACK BOARD / COLOR BOARD MODE
What could be more right for education? A black board mode. The
Included Accessories
Soft carrying bag
Lens cap x 1
PIN code-locking seal x 1
Quick reference guide
Owner's manual x 1(CD-ROM)
CD-ROM read me note
Remote control x 1 (AAA battery x 2)
Warranty Three years parts and labor; 90 days original lamp;
Quick Repair Program under warranty
g
PLC-XU106 is compatible without a screen using the four variously
colored (red, blue, green, and yellow) projection surfaces via 'Color
Board Mode'.
CLOSED CAPTION
PLC-XU106 is Closed Caption compatible.