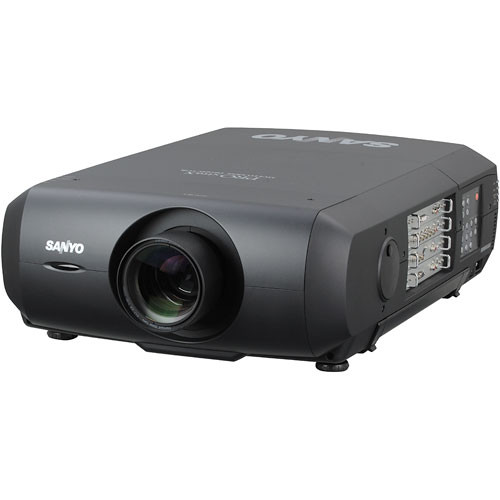 Sanyo PLC-XF47
WORLD'S FIRST 15,000 ANSI LUMENS LCD PROJECTOR!
Utilizing four high-output 330-watt NSHA lamps as its light
source, the PLC-XF47 delivers an amazing 15,000 ANSI lumens
of brightness. Stacking two projectors in the twin-stack
configuration can achieve up to 30,000 ANSI lumens of
brightness.
DURABLE In-Organic Optical System (D.I.O.S.)
PLC-XF47 contains a new durable liquid crystal panel for
extended projector usage and combined with a high-contrast
optical system that achieves a contrast ratio of 2000:1.
FLEXIBLE SET-UP
Option Boards, U/D/L/R Lens shift and Option lenses make for a
very versatile projector.
UNIQUE COLOR MANAGEMENT SYSTEM
Sanyo's color management system allows you to change the
shading of a specific color in the image to a desired shade
without affecting other colors or adjustment, such as tint or white
balance.
NETWORK CONTROL/ADMINISTRATION
An optional PJ-Net Organizer network board allows for simple
control and management of projectors via a CAT5 network
connection. The administrator can use a network management
software called PJ Master (optional accessory), and be able to
centrally control all PJ-Net Organizer-mounted projectors within
the network.
24/7* OPERATION
A newly developed liquid crystal panel with an optical
compensator that creates linear polarization, together with
improved optical block cooling system, gives the PLC-XF47 the
capability of being operated on a 24/7* basis.
* In order to maintain a stable lamp condition, at least one hour of rest for the
projector is required in each 24-hour period.
* For appropriate care and use of the projector, regular cleaning of air filters is
necessary. Cleaning is recommended once a week. However, the frequency on
which cleaning is required depends upon the installation or operation environments.