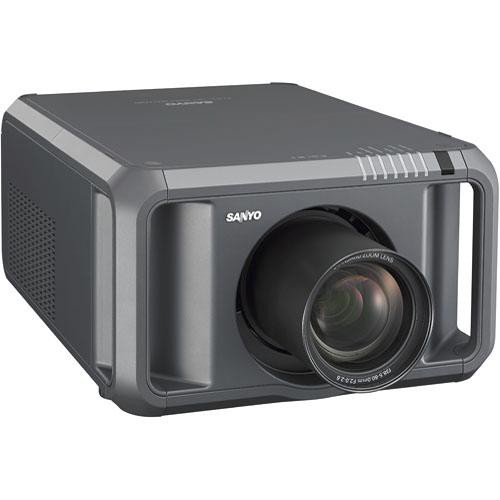 Sanyo PDG-100L
6,500 lumens, and Full HD video for a high brightness and superior image
The PDG-DHT100L answers the growing needs in the digital signage market for
use in brighter environments. This bright projector is designed to handle Full HD
(1920 x 1080) high quality resolution image projection, it meets the changing needs
of the marketplace for more widespread use of high definition input signals.
Attention to detail and accuracy in image projection allows use of the projector in
more demanding situations, such as specialized design fields or CAD applications.
The PDG-DHT100L has two different types of user-changeable color wheels. 6
segments color wheel provides rich color reproduction, 4 segments wheels offers
high brightness.
Dust-resistant sealed optical engine and *35,000 hour-use 'Active
Maintenance Filter', for cleaner and highly durable projection
New, improved, sealed optical engine cooling design prevents dust build-up while
maintaining optimal brightness and contrast. The traditional problems of
maintaining high projection quality are overcome with the PDG-DHT100L.
* ECO lamp mode
Various features for versatile installation
Equipped with 'Edge Blending function that allows what feels like boundary-less
images with multi-image display possibilities. Built-in 'Color Matching' function
correcting variations in color reproduction when using more than one projector.
Capable of projecting two images simultaneously either using built-in picture-inpicture mode or picture-by-picture mode.
Uncompressed HD DATA WIRELESS transmission optional adapter(Option)
The PDG-DHT100L projector is compatible with an uncompressed HD DATA
WIRELESS Transmission System. It allows pure uncompressed data transmission
without delays between the video and sound. This wireless technology allows
uncompressed data from distances of up to 98-feet from the input source, therefore
there is easy set-up for large event halls and other large rooms/theaters.
24/7 feature "Lamp interval function"
The lamp interval" function can be used to automatically switch the lamp that is
turned on to an alternate lamp after a certain period of time in order to reduce the
initial lamp deterioration. A user can select from
[Off/Auto/200h/500h/1000h/2000h] or 24h" interval time, and rotate each lamp for
24/7 usage.