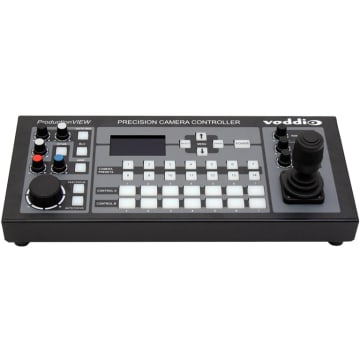 Vaddio ProductionVIEW Precision Camera Controller
Joystick controller for extremely smooth and accurate pan, tilt and zoom control.
Key Features:
Red and blue gain, detail, iris with adjustable gain controls
Large focus wheel for fast, accurate manual focus
Seven discrete auto-sensing RS-232C camera control ports
External control capability (RS-232 and Tally)
Link port for linking to second Precision Camera Controller up to 500 feet
14 presets per camera
The Precision Camera Controller boasts a broadcast-quality joystick designed for smooth and accurate pan, tilt and zoom control, as well as CCU image control functionality for controlling up to seven PTZ cameras. By integrating CCU control into the system users can control red and blue gain, detail, and iris with adjustable gain with any Vaddio™ PTZ camera. One-push white balance (OPWB), auto white balance (AWB) and auto iris are also available to those who desire a more automated image control system. The CCU control surface gives system users real-time knobs and buttons to control each of these functions.
Designed to control up to seven PTZ cameras, the Precision Camera Controller can be used as a stand-alone device or in conjunction with a variety of video switchers or mixers on the market today. In addition, two Precision Camera Controllers can be linked together to allow the user to control all cameras from either controller.
This Package Includes:
ProductionVIEW Precision Camera Controller
18V power supply with AC cord set(s)
Quick-Start Guide