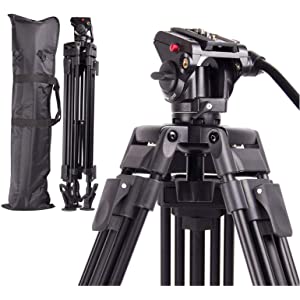 Dracast DVT Pro2 Fluid head
The DVT Pro – 2 Video Tripod with Fluid Head from Dracast combines a fluid video head with a 75mm bowl leveler and a 2-stage heavy duty aluminum tripod that delivers professional results in a reliable package.
This compact system provides the rock solid stability and smooth action demanded by professionals. The easy to use bowl leveler allows you to achieve a level camera on uneven surfaces and lets you maintain a level pan wherever the action goes. The Pro – 2 also features an extra large quick release plate to accommodate larger professional cameras and weighs in at 20.5 pounds to provide rock solid professional support.
Fluid Damping System
The head utilizes a true fluid damping system for extremely smooth shooting throughout the 360° pan range
Pan Tilt Controls
The head features pan and tilt controls allowing you to make fine adjustment to the resistance, which helps to produce smooth professional motion. The head also features 2 professional pan handles for precise control
Easy Leveling
The DVT Pro – 2 features a 75mm bowl leveling system making it fast and easy to level the tripod. You simply use the built-in bubble level to position the ball with the horizon