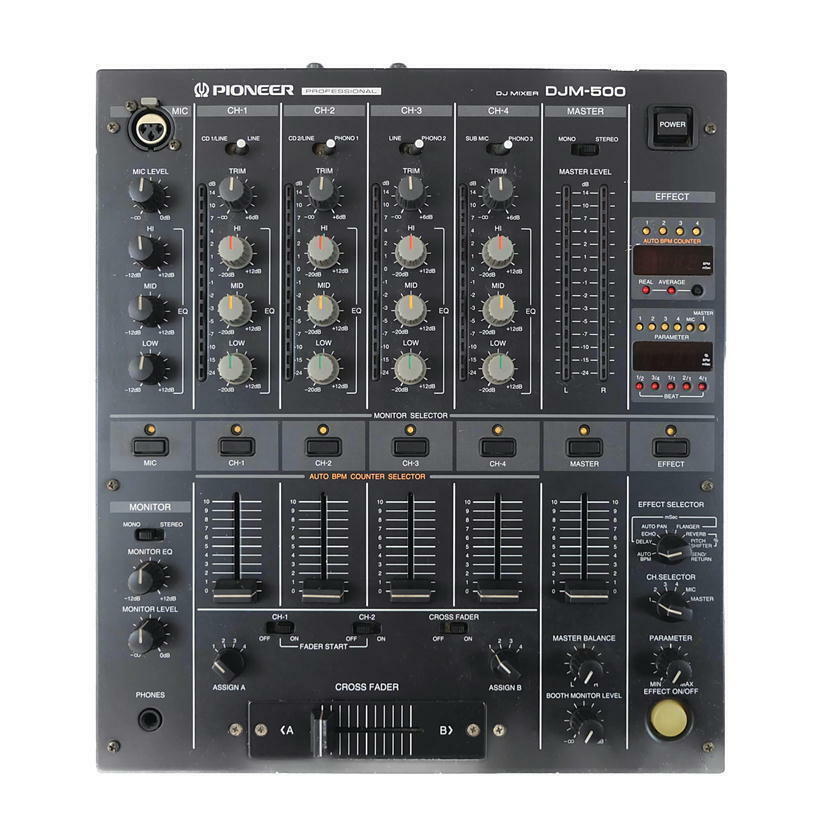 Pioneer DJM500
The DJM500 and CDJ Series make the perfect system for creating the ultimate in club or house party music.Auto BPM Counter – Only from Pioneer
Let the digital readout confirm what you already know by ear. The Beatst-Per-Minute Counter measures the BPM of virtually all kinds of dance music, enabling you to check the tempo at a glance. Linking widely differing types of music is easier than ever with the Auto BPM Counter.
Auto BPM and Effects
Delay: A single repeat of 1/2, 3/4, and 1/1 beat music can be overlaid over a track. For example, with 1/2 Beat Delay, four beats will be increased to eight, while using the 3/4 Beat Delay produces a "leap sound" effect.
Echo: Repeatedly overlaying beats of 1/2, 3/4, and 1/1 is simple. Cutting in 1/1 beat Echo can create an intriguing fade to the beat; applying it to the mike causes microphone output to be reproduced repeatedly to the same beat.
Auto Pan: The left-right balance can be changed automatically to the rhythm as rapidly as you like. Auto Pan can do rhythmic switches too quick for human operators.
Flanger: Switching to the Flanger effect produces synthesizer tones quickly and easily.
Pitch Shifter: The Pitch Shifter corrects for changes in pitch within a range of +/- 1 octave when using analog turntables or other vendors' CD players.