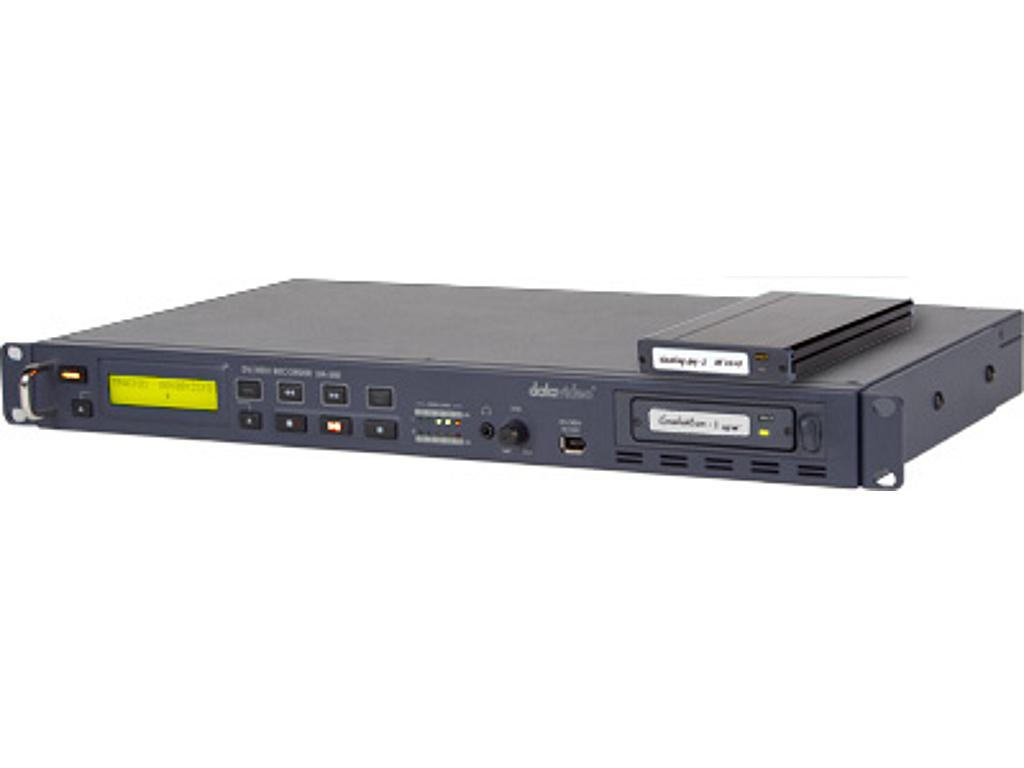 Datavideo HDR50 SD-HD Recorder/250GB HDD
The Datavideo HDR-50 is a rack mountable digital video recorder and player designed to record in DV and HDV. The unit can record up to 18 hours of continuous footage without a hitch, saving both time and money. Gone are the days of a costly tape-based workflow, which usually wastes hours of valuable time logging and capturing. Simply hook the HDR-50 to your nonlinear editing workstation and voila, ready-to-edit footage at your fingertips! This model fits into any standard 19″ racking system, taking up 1RU of space.
Fully Digital Signals
The HDR-50 has both SDI (serial digital interface) and HDMI, which allows the transmission of fully digital high definition video.
Rack Mountable
The HDR-50 is a rack mountable version of the HDR-40, taking up only 1RU in any standard 19″ system. The unit is ideal for small studios and editing workstations.
Interchangeable Drives
The deck uses a specially designed 250GB interchangeable drive, making it easier to capture large volumes of footage without having to dump to an external storage device before reusing. Simply pop out the full disc and throw in another!
Native DV and HDV Support
The HDR-50 has been built to meet the growing demand of high definition videography. The unit has complete native support for the HDV format as well as being capable of legacy recording of standard DV (in .M2T files).
Loop Playback
The HDR-50 can be used in promotion applications by using loop playback. The feature allows users to loop video clips seamlessly, making it ideal for commercial environments.
NLE Support
The recorder supports most nonlinear editors, including Adobe Premiere Pro, Sony Vegas, and Avid Media Composer. Dragging footage onto your timeline couldn't be easier! Just drag and drop files from the drive to your computer (PC or Mac) in seconds.
In the Box
Datavideo HDR-50 DV/HDV Recorder/Player
Power Supply and Cord
HDR-50 HDV/DV Hard Disk Recorder
File Converter Software CD
5.9′ (1.8 m) 6-Pin to 6-Pin FireWire Cable
4′ (1.2 m) S-Video Cable
4.8′ (1.5 m) Stereo RCA Cable
1.5′ (0.4 m) Y-Type USB Cable
DV File Conversion Software (CD-ROM/Windows)
DV Cable
6′ 6-Pin to 6-Pin FireWire Cable