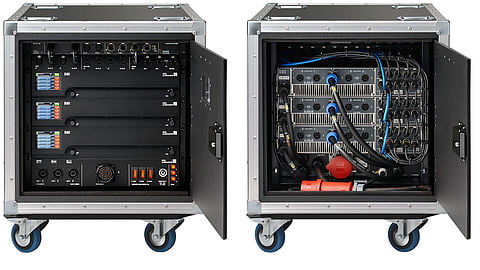 d&b Autotechnik D80 x 3 Amplifier Touring Rack
The d&b 6 x D80 Touring rack assembly and the d&b 3x D80 Touring rack assembly are intended for large scale sound reinforcement applications. They are designed as a complete prewired system amplification rack providing mains power distribution, connector interfaces and all internal cabling for D80 amplifiers. The 19″ internal shockmount steel frame also accommodates an I/O panel providing both analog and digital audio signals as well as four network connectors for either Ethernet or CAN-Bus remote networking and a d&b DS10 or DS20 Audio network bridge. The d&b Audio network bridges interface between audio transport networks and AES3 digital audio signals while also providing distribution of Ethernet control data. The DS10 supports Dante networks, while the DS20 is used for the open standards-based Milan protocol.
The Audio network bridges each incorporate an integrated 5-port switch, offering a primary and redundant network. The DS20 5-port switch is fully AVB enabled, while the DS10 offers special functions such as Multicast Filtering and VLAN modes.
The d&b 6 x D80 Touring rack assembly comes with a 2 RU loudspeaker connector panel providing six NL8 (4 channel) and two LKA25 (12 channel) loudspeaker outputs. The loudspeaker connector panel is also equipped with a Power over Ethernet (POE) socket to connect and power a d&b ArraySight inclinometer. The d&b ArraySight inclinometer system is intended to vertically aim an entire array in its operation position. It provides precision angle measurement over a wide measuring ange of ±90 degrees. It utilizes an ultra bright green laser to provide a visible indication for aiming the array. The d&b ArraySight sender unit also sends temperature and humidity information to the R1 Remote control software via OCA/AES70. The d&b 3 x D80 Touring rack assembly provides three NL8 (4 channel) and one LKA25 (12 channel) loudspeaker output.
Both touring Racks are available with a 32 A CEE mains power distribution or 30 A NEMA mains power distribution panel.